Blogs, seeds, and...friend-quotes???
Let's be honest...it's really, really hard for a relatively unknown band to get blog or press coverage. We've been working on it, but it's a little like throwing a handful of seeds into a weedy parking lot: until you really crack into the pavement and get to the soil below, your tender seedlings don't stand much of a chance of flourishing.
That's where YOU come in. We've been getting some really positive feedback on "City" from some insightful friends and fans (see below!), and we thought we'd start sharing that on our website. In an era where anyone can share their opinion, why not start building a story about your band with some quotes from your musically savvy friends?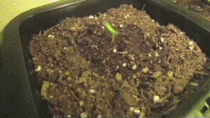 We want you...nay, we NEED you...to participate and help us build a story about our sound. Send us a message on Facebook or Twitter, or comment on this post, and there's a very good chance that we'll post your words and weave them into our story. You can exercise your inner blogger AND feel good about supporting us at this fledgling stage in our progression.
Tim Howd is a super talented Boston musician we played with in Worcester at the end of March. He has a project called The Only Humans. He told us in a Facebook message yesterday:
"I just listened to your new single and it's amazing. Seriously though. If there's hope for the future of music, I think it's you guys. I've played with/met a lot of musicians and no one has the polish and the focus you guys have. It's astounding."
Dakota DeVos is Tyler's amazing and hilarious sister and an assistant curator at the Harvard Art Museum. She emailed us:
"HOLY SHIT, DUDES!!!! Just listened to City on facebook. That shit is HAWT! seriously sounds so, sooo good and crisp! I truly cannot wait to hear the rest of this album. wowowowowowow!"
Nick Poulin is an awesome Portland musician and super supportive friend and music-community-member. He has a project called Tall Horse. He told us in a Facebook message today:
"I just finally got a chance to listen to your first single! I just wanted to let you know that I absolutely love the production, y'all know what's up. Tyler, your vocal line is so beautiful. Every time you go into falsetto singing "ripple" is fucking mad crazy good. Patia, you own tone with your synths. Love love love the sounds you create! Just wanted to let you know I'm listening! I hope you guys are well!"
Alex Wand is a Grammy-winning LA-based musician, a college friend of Tyler's, and an amazing, warm, talented, supportive person. He has a few diverse music projects. He commented on our Facebook post the other day:
"'We all become birds the moment that we die' Some excellent lyrics beautifully illustrated. Great song, y'all!"
Camille Dietrich McKenna is a chocolatier based in San Diego, and a high school friend of Patia's. She has an INCREDIBLE chocolate company called Mission Heights Chocolate. She commented on our Facebook post the other day:
"Love it! I have been humming it since I first heard it Sunday!!!!"
Curt Naihersey is a retired music-aficionado we met at a show in Boston who has become a supportive fan. He commented on our Facebook post:
"Terrific song with an upbeat, sweeping flow! I'm sure your new album with be spectacular. Can't wait!"
THANK YOU so much to our incredibly supportive friends. It means the world to us...seriously. Your support helps us keep at the daunting work of trying to get our sound out there into the world. Thank you!!!! ♥♥♥
Love,
Patia & Tyler